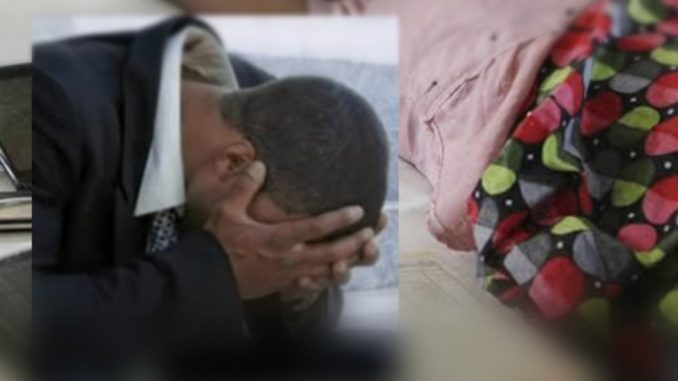 A man whose wedding plans were already concluded with her heartthrob has impregnated his ex-girlfriend, after the bride's family postponed their wedding indefinitely due to COVID-19 lockdown.

The wedding had earlier been fixed to hold during the week two of the coronavirus lockdown.
A senior police officer had given the hint on his social media handle and the narrative goes thus: The wedding plans had been concluded, but arrangements hit into the period a national lockdown was announced by the government, which was not earlier envisaged.
ALSO READ: Anger as document warning Nigerian officials not to leak govt documents leaked!
But even at that, the weeding was still proposed to hold in conformity with the required number of people legally allowed in a gathering, so, the social distance regulation won't be flouted.
The groom's family was said to have suggested that the couple could still solemnise their wedding in the company of 10 people as allowed by the social distance rule, and later throw a big party, or the bride relocates from her parents' house to the groom's house, but as said, both suggestions were turned down by the bride's parents.
Their reason being that, the arrangements won't allow for a big society wedding for their daughter, hence, they chose to opt for an indefinite postponement of the wedding, as the social distance arrangement would only limit them to a very small circle of attendees.
However, as the lockdown and the stay at home order continued, the man was said to have come in contact with his ex-lover, who came visiting him in his house.
Now, it was during this period government banned the interstate movement to further stem the tide of COVID-19 spread, so, both of them stayed home together all through.
.
The lady, who was already cohabiting with her former lover was stuck at his place as there was no interstate movement, hence, she couldn't travel back to her base.
Along the line, she got pregnant and the family of the groom too had said she must keep the pregnancy, as they ruled out abortion, which was placed as an option for the couple to later go ahead with their wedding.
In the aftermath, the bride who, with her family had preferred an elaborate wedding is said to be hospitalised currently on hearing about the development.