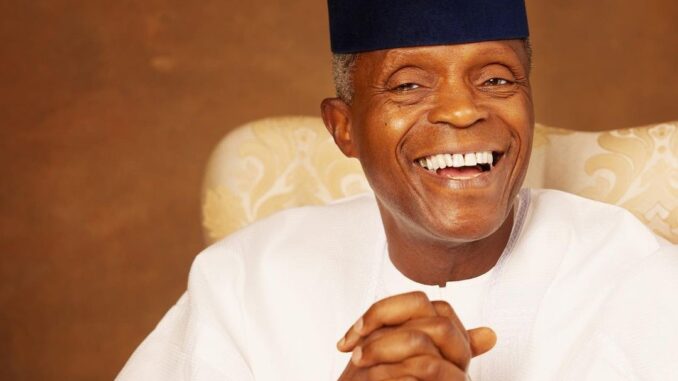 By Kehinde Adeoye

Nigerians on the micro-blogging site, Twitter, on Tuesday, July 5, 2022, launched out to register their continued support and admiration for the Vice President, Prof Yemi Osinbajo, SAN, saying he has offered Nigeria great service and quality representation both at home and abroad.
This is coming on the heels of the just-concluded 61st Ordinary Session of the Economic Community of West Africa States (ECOWAS) held in Ghana, where Vice President Osinbajo represented President Muhammadu Buhari at the event.
Rising in support of Prof Osinbajo's seven-year stewardship, the commentators applauding his achievements, trended the hashtag #OsinbajoNigeriasPride, and while pouring praises and accolades, they lauded him as the best Vice President in Nigeria's history.
They highlighted many qualities that stand him out among other politicians in Nigeria, some of which they called his sterling approach to solve issues, honestly in service to the nation, and his loyalty, both to his boss and even to his office in fulfilling his constitutional roles without faltering at work.
Prof Osinbajo's unwavering commitment and dedication to service in his capacity as the Vice President of Nigeria was generally applauded by social commentators.
Passing their comments, they said looking back at the last convention of the ruling All Progressives Congress (APC), his loss though shocking, but he still can lead Nigeria to the promised land, as to them, had the template to make Nigeria work.
ALSO READ: ECOWAS lauds Nigeria's role as Osinbajo sets agenda for new leader
Other achievements of Vice President Osinbajo the tweeps cited include the conceptualisation of different social welfare schemes, like the Economic Sustainability Plan (ESP), a programme launched by the Federal Government as anchored by the VP to cushion the effects of Covid-19 which brought economic downturn on Nigerians.
References were made to others he coordinated and still coordinating, such as the National Social Investment Programmes (NSIP).
Below are some of the tweets on the hashtag:
George Weah is the President of Liberia, but he won't miss the handshake of the best Vice President Nigeria has produced in history, that is @ProfOsinbajo, our national mentor! VP Yemi Osinbajo, SAN, is forever cherished for all he has done for Nigeria. #OsinbajoNigeriasPride
George Weah is the President of Liberia, but he won't miss the handshake of the best Vice President Nigeria has produced in history, that is @ProfOsinbajo, our national mentor! VP Yemi Osinbajo, SAN, is forever cherished for all he has done for Nigeria. #OsinbajoNigeriasPride pic.twitter.com/ADLXMy2ryg

— Dame Annah ✡ (@DameAnnah) July 5, 2022
This man brought out d selflessness in Nigerians.
He animated the spirit of oneness in the nation.
He amplified d possibility that can be in d heart of everyone
Osinbajo made us believe in Nigeria again. He's the nation's pride. #MyLoveForOsinbajoStands
#OsinbajoIsNigeriasPride
This man brought out d selflessness in Nigerians.
He animated the spirit of oneness in the nation.
He amplified d possibility that can be in d heart of everyone

Osinbajo made us believe in Nigeria again. He's the nation's pride. #MyLoveForOsinbajoStands#OsinbajoIsNigeriasPride pic.twitter.com/JTMvK510vE

— Adewumi Collins (@AdewumiCollins) July 5, 2022
Osinbajo has become a leading light for his contemporaries across Africa and beyond. – LCCI
#OsinbajoNigeriasPride
Osinbajo has become a leading light for his contemporaries across Africa and beyond. – LCCI#OsinbajoNigeriasPridehttps://t.co/MNGJ2waSUX

— Olaoye (@Olaoye5) July 5, 2022
In every part of the country, he remains one politician that is loved by all. Osinbajo is more like a break from the norm. He is a symbol of a new breed of politicians Nigeria needs to face the challenges of the 21st Century. #InOsinbajoWeStand
#OsinbajoIsNigeriasPride
In every part of the country, he remains one politician that is loved by all. Osinbajo is more like a break from the norm. He is a symbol of new breed of politicians Nigeria needs to face the challenges of the 21st Century. #InOsinbajoWeStand#OsinbajoIsNigeriasPride pic.twitter.com/m2agw7CkBh

— Anastasia Eze. J (@AnastasiaEzeJ1) July 5, 2022
Osinbajo is truly the nation's pride not only in his exquisite appearance but also in his excellence in eloquence, brilliance, dignity and integrity.
Little wonder he is always been admired everywhere he goes.
#OsinbajoNigeriasPride
Osinbajo is truly the nation's pride not only in his exquisite appearance but also in his excellence in eloquence, brilliance, dignity and integrity.
Little wonder he is always been admired everywhere he goes. #OsinbajoNigeriasPride pic.twitter.com/LpSBNyUYIe

— Kemisola Adekunle ⚪ (@KemisolaAdekun1) July 5, 2022
Osinbajo at ECOWAS ✅
Osinbajo at G7 ✅✅
Osinbajo at Silicon Valley ✅✅✅ and you still hate on this Man. He remains the most talked about and the most sought-after political office holder in Nigeria. He is Nigeria's Pride. #OsinbajoNigeriasPride
Osinbajo at ECOWAS ✅
Osinbajo at G7 ✅✅
Osinbajo at Silicon Valley ✅✅✅ and you still hate on this Man. He remains the most talked and the most sought-after Political office holder in Nigeria. He is Nigeria's Pride. #OsinbajoNigeriasPride pic.twitter.com/kIbX0V8stO

— Mayowa Olaniyan 🇳🇬 (@olaniyanmayowa) July 5, 2022
#OsinbajoNigeriasPride
Unlike his predecessors, Osinbajo has redefined the office of Nigeria's Vice President, all thanks to the trust between him and the President. They both have kept an outstanding working relationship that has never been seen or imagined in the past 22 years
Unlike his predecessors, Osinbajo has redefined the office of Nigeria's Vice President, all thanks to the trust between him and the President. They both have kept an outstanding working relationship that has never been seen or imagined in the past 22 years pic.twitter.com/bokkd8ty6D

— 'Tola (@demitola) July 5, 2022
Osinbajo matches actions with words. Whenever he speaks I feel a burst of reassuring hope and refreshing calmness. A good leader must be able to motivate and inspires his followers. My Iconic Man has all that tucked in him
#MyLoveForOsinbajoStands
#OsinbajoNigeriasPride
Osinbajo matches actions with words . Whenever he speaks I feel a burst of reassuring hope and refreshing calmness. A good leader must be able to motivate and inspires his followers. My Iconic Man has all that tucked in him#MyLoveForOsinbajoStands#OsinbajoNigeriasPride pic.twitter.com/NxLQfOIPEO

— Bolaji Philips (@PhilipsBolaji) July 5, 2022
"See a man who is diligent in his business, he shall stand before kings, not before mere men"
Osinbajo will be the first vice president in the history of our democracy who never joke with his work, a very hardworking leader.
#OsinbajoNigeriasPride
#MyLoveForOsinbajoStands
"See a man who is diligent in his business, he shall stand before kings, not before mere men"
Osinbajo will be the first vice president in the history of our democracy who never joke with his work,a very hardworking leader.#OsinbajoNigeriasPride#MyLoveForOsinbajoStands pic.twitter.com/QJtSqc3kXR

— Thomas Blessing (@Thomas2blessing) July 5, 2022
Osinbajo doesn't only have faith that a New Nigeria can be birthed, but he has built a track record of spearheading diff projects under his watch as the best VP in Nigeria's history, many of which are bold, audacious and near-impossible tasks. #OsinbajoIsNigeriasPride
Osinbajo doesn't only have faith that a New Nigeria can be birthed, but he has built a track record of spearheading diff projects under his watch as the best VP in Nigeria history, many of which are bold, audacious and near impossible tasks. #OsinbajoIsNigeriasPride pic.twitter.com/zEuXChv9kW

— Adewumi Collins (@AdewumiCollins) July 5, 2022