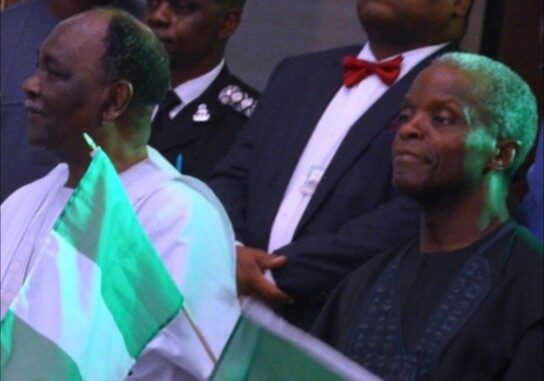 • Gov Abiodun calls Osinbajo completely detribalized Nigerian, 'Omoluabi' poster boy of current Yoruba generation

• VP Osinbajo represents perfect picture of what an ideal Nigerian leader should look like, says former Emir Sanusi
By Oluwafemi Popoola
Nearly less than a month before the Vice President, Prof Yemi Osinbajo, SAN, completes his tenure, former Head of State, General Yakubu Gowon, has lauded the unifying spirit of the Vice President, describing him as an emblem of national unity whose quest to bring all Nigerians together defines his unique leadership style.
The former Nigerian head of state made this revelation on Monday, May 1, 2023, during a virtual book launch ceremony held to honour Vice President Osinbajo by a group of 25 famous journalists and writers across Nigeria, who had rallied each other to write a book on the VP's life from his childhood to career, politics, family life, and impact as Nigeria's second in command.
The event was organized by the journalists and writers under the aegis of PYO Collective, a nonpartisan and multicultural group of Nigerians who are interested in good governance and economic development of the country.
As the book titled "Osinbajo Strides: Defining Moments of An Innovative Leader," was unveiled to the general public, the Chairman of the occasion, His Excellency, General Gowon, in his speech described Prof. Osinbajo as a leader who brought a collaborative approach to governance.
"Vice President Osinbajo is known for his collaborative approach to governance which has enabled him to work effectively with different stakeholders in achieving common goals" General Gowon said.
The elder statesmen showered praises on Prof Osinbajo and thanked him for his service to the nation, saying, he has done very well and will leave the office as one of the most effective Vice Presidents the country has ever produced.
"As you all know, Vice President Osinbajo has been at the forefront of ground-breaking initiatives that have transformed Nigeria's economy and its people.
"The Vice President has always exhibited passion for innovation and commitment to the development of Nigeria. Prof. Osinbajo is one of the most effective vice presidents Nigeria has ever had. And that is why I said congratulations to this government. The vice president has put in a lot of effort with the kind of work he's done," the former Nigerian helmsman said.
Also, at the virtual programme, video clips revealing some memorable moments of the Vice President, speaking at different fora were displayed on the screen at several intervals in what looked like a gracious and historic farewell celebration for Osinbajo given his successful eight-year Vice Presidency which ends on May 29.
In the same vein, the Governor of Ogun State, Prince Dapo Abiodun, decorated the VP with sweet adjectives describing Osinbajo "As a complete detribalized Nigeria and the 'Omoluabi' poster boy of the current Yoruba generation."
ALSO READ: As Osinbajo caught unawares by 25 writers launching book in his honour
His words: "Our very own Professor, Pastor Yemi Osinbajo, our Vice President, I will describe as the Omoluabi poster boy of our generation. When you hear the word, Omolaubi, the first person that comes to mind is Professor Yemi Osinbajo.
"He has distinguished himself as a completely detribalized leader. A nation builder, a statesman, and a leader who has consistently advocated for the unity and strength of Nigeria's diversity.
"Prof is a breath of fresh air in Nigeria's political space. We will continue to watch and learn from him because he is a leader who is worthy of emulation in this our journey and resolve to build a New Nigeria. I have been trying to emulate the Vice President. I look at him as my role model."
Likewise, former Emir of Kano State, Sanusi Lamido Sanusi, who was also an important guest at the event, spoke glowingly of the Vice President and described Prof. Osinbajo as an intellectual, saying he Is comfortable debating issues with him.
He said, "VP Osinbajo represents a perfect picture of what an ideal Nigerian leader should look like and added that his time as Acting President gave an insight into how his Presidency would be had he succeeded in his presidential bid.
"Osinbajo the intellectual, someone I will sit with and debate, and as you know, I have been very critical of some of the policies of the government, and he will debate. And he had the ability as we all know, to accept a superior argument. Sometimes, he will explain why it cannot be done, sometimes he will explain that it is something he agrees with but he hopes would take time to fix, sometimes he would outrightly not accept and would agree to disagree."
"Osinbajo has this picture of a man who has the quality of a leader we need or how a leader should be. As Acting President, he gave us insight into how he would rule this country as President"
"I have seen first-hand his concern for the poor people of the country, the question of malnutrition and infant mortality, his commitment, year after year, to see improvements in the structure and the funding and the processes of the institution and I do hope that the work he has done would begin to see light in the near future."