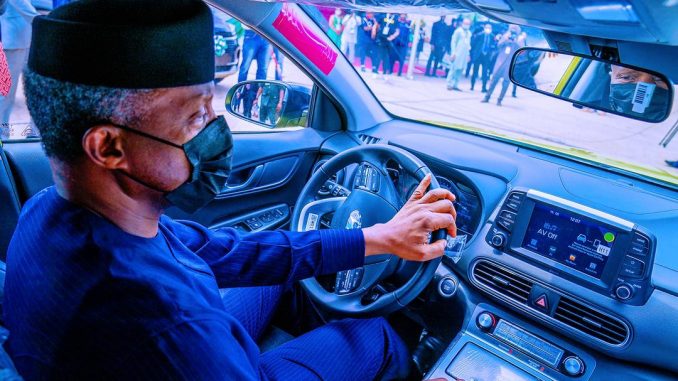 • FG to boost further productions in Nigeria

• Government, business communities to build charging points for vehicle
Vice President Yemi Osinbajo has test-driven Hyundai Kona, unveiled as Nigeria's first electric car by Stallion Motor at an elaborate ceremony recently held at the Sheraton Hotel, Abuja.
The Vice President drove the new car after he declared open the exhibition tour of Made-in-Nigeria products, opening a five-day ceremony of Nigeria @ 60 Expo being held at the Eagle Square, Abuja.
At the event organised by the Inter-ministerial Committee on Nigeria @ 60 in collaboration with Business Visa and Training Co Ltd, Osinbajo, speaking with newsmen expressed delight at the innovation that brought about the new cat, and expressed hope for a bright future for Nigeria.
"That is a very good drive; fantastic; it just shows what is possible. I am glad to see that this is an assembled in Nigeria electric car. You can literally charge it anywhere; I think it is a very fantastic innovation; fantastic product, and I can tell because I drove it," Osinbajo said.
Also speaking at the event, Secretary to the Government of the Federation (SGF), Boss Mustapha, in his keynote address, said the event was aimed at showcasing what Nigeria could produce with local raw materials.
"To compliment the efforts of the Federal Government at ensuring that we produce what we eat and eat what we produce. In this context, we are to produce what we use and use what we produce,'' Mustapha said.
The Director-General, World Trade Organisation (WTO), Dr Ngozi Okonjo-Iweala, in a virtual goodwill message, commended the organizers for their efforts to showcase the growth of Nigeria's Micro Small, and Medium Enterprises.
At its earlier launch in Abuja, the Nigeria's first locally assembled electric car was unveiled by Nigerian Minister of Industry, Trade and Investment, Otunba Niyi Adebayo, supported by Director-General, National Automotive Design and Development Council (NADDC), Mr Jelani Aliyu.
While Adebayo congratulated Stallion Group and its subsidiary, Hyundai Motor Nigeria for its novel idea, introducing the first electric vehicle into the Nigerian market, said, Federal Government is willing to provide the enabling environment for this technology to thrive, this being the first electric car that Nigeria is seeing.
"On behalf of the Federal Government, I commend Hyundai for this initiative, as we continue to support this noble idea," Adebayo said.
Adebayo, who also test-driven the electric car, described its performance as exceptional, while he noted that concern about the availability of the vehicle's charging points would be addressed over time because business people would see the opportunity to create a business by setting up charging points.
"Slowly and gradually, like in other parts of the world, there is an increased awareness of what people can buy into. When people start purchasing these vehicles it will give an opportunity for other people to create business for themselves by setting up charging point business," Adebayo said.
He also informed that the production of the electric car would result in competition, as the Federal Government, he said was already in talks with Stallions Motors to reduce the price of the cars to make it affordable for many Nigerians.
In attendance at the unveiling of the vehicle, Hyundai Kona, was a high-powered government dignitaries which included the Minister of Works and Housing, Babatunde Raji Fashola, the Director-General National Automotive Design and Development Council (NADDC), Jelani Aliyu.
ALSO READ:  Osinbajo launches Kemi Adeosun's 'Dash Me Store,' Nigeria's online thrift-for-charity initiative
Also in attendance were the Director General of the National Information Technology Development Agency (NITDA), Inuwa Abdulahi, and the CEO of Stallion Motors, Anat Badjatya.
According to its manufacturers, the Hyundai Kona electric car has five years of battery and manufacturer's warranty, 100 per cent electric, zero-emission and 482 kilometres range for nine hours charging duration.
The CEO of Stallion Motors, Badjatya, speaking on the car features said, it was assembled in Nigeria, and has low noise and low maintenance, affirming that electric car is the way to go and has come to stay in Nigeria, since according to him, "the country cannot afford to be left behind."
Also, Aliyu said his organisation, NADDC has been working very closely with Stallion and other stakeholders to ensure that they assemble and produce vehicles specifically configured for Nigerian buyers.
He expressed excitement that many investors are finding the country worthy to invest and provide further services good for Nigerians.
"This is the very first one. There is another company-hallmark vehicle,- an offshoot of another indigenous company in Nigeria that is making electric minibuses. This is just the beginning and we believe it will add value to the Nigerian economy," Aliyu said.
He appealed that electrical challenges in the country should not deter motor manufacturing, saying that though there are always challenges, they should not be allowed to slow the economy. He said the challenges will allow for creativity to provide power for electric vehicles.
While talking on affordability, Badjatya said Stallion Motors is working with the authority to ensure that the electric car is affordable to more Nigerians. The CEO also stressed the need to embrace the future.
"This is the future; there is no doubt about that. We can't wish it away that we don't have power because the entire auto world is embracing review. Slowly we are getting away from the tank and petrol engine, and we don't want to be left out. I do believe that an electric vehicle is the future," Badjatya said.
It will be recalled that, Before its February launch in Abuja, the car had been unveiled in Lagos, Nobember 2020, three months earlier.
Then, Lagos State Governor Babajide Sanwo-Olu, had, on Friday, November 13, 2020, unveiled the first Nigerian electric car – Hyundai Kona.
Sanwo-Olu launched Hyundai Kona, a product of Stallion Group, at the Stallion Group VON Automobiles Nigeria assembly plant in Ojo, Lagos State, where the car was manufactured.
The new Kona regarded in European motoring industry as the world's number one, is with the cost put at about N24 million.
Speaking during the unveiling of the new car, Sanwo-Olu observed that VON, has over 40 to 50 years of vehicle manufacturing history in Nigeria, at a time they began with the assembling of various Volkswagen products.
Sanwo-Olu at the event also promised the provision of electricity charging points for the vehicle across the state, which he said would be made available by the Lagos State Government, to make it easy for users to enjoy their Electric Vehicles (EV).
He also promised the completion of the Lagos-Badagry Expressway, started under the administration of former governor of the state, Babatunde Fasola, as according to him, this would facilitate business activities in the state.
"Lagos-Badagry Expressway which has been expanded from 2 to 10 lanes will soon be complete, we are not rushing the road; we are building a first-class road construction project," Sanwo-Olu said.
Also speaking, the Managing Director, VON Automobiles, Mr Rohtagi Manish, said Kona will change things positively in the Nigerian auto market, adding that the changes in global temperature and weather patterns are seen today are caused by human activity.
Hence, he said the arrival of electric Kona, is one way to respond to the global weather challenges, so as to achieve a greener environment.
"This appears to be a huge boost for the promoters of more environmentally friendly automobile and subsequently promote a green environment. This will also help to drive the Federal Government's efforts to shift focus from petrol-based automobile to vehicles with a cheaper source of energy," he said.