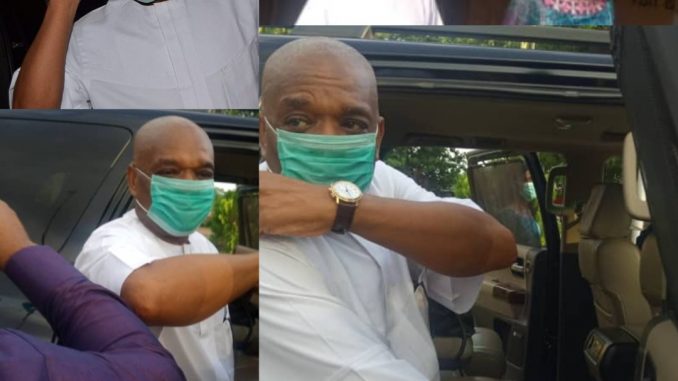 Former Abia State Governor Orji Uzor Kalu, was, on Wednesday released from Kuje Custodial Centre, Abuja, where he was serving a 12-year sentence.

He had been jailed and convicted last December for looting of N7.6 billion belonging to Abia State while serving as its governor, but his conviction and jail term were quashed by the Supreme Court for a retrial over a technical error in the judicial process that led to his imprisonment.
ALSO READ: Rape and murder of teenage girl in Ibadan sparks outrage in #JusticeForBarakat protest
However, the prison authorities had held him back in jail, even after the Supreme Court verdict, but following an order by the Federal High Court in Lagos, presided over on Tuesday, by Justice Mohammad Liman, effecting his release, he was eventually set free Wednesday.
He was released and seen entering his vehicle around 7:30pm.
ALSO READ: Nigerians rage against raping of UNIBEN student to death inside church in #JusticeforUWA protest
In the preceeding trial, the Economic and Financial Crimes Commission (EFCC) had arraigned Kalu and a former director of finance and account of Abia State, Ude Jones Udeogu, on 36 counts of money laundering to the tune of N7.5 billion and both were jailed in December.
However, the Supreme Court on May 8, nullified the trial of Kalu's conviction on technical ground.
Nigeria's apex court held that the trial judge, Mohammed Idris, who had been elevated to the Court of Appeal at the time of the case, was no longer qualified to have presided over the matter while he was an Appeal Court judge.