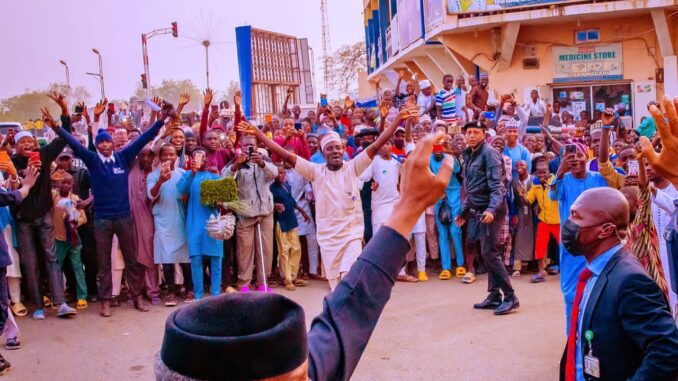 Oluwafemi Popoola

The undeclared and perceived presidential ambition of Nigeria's Vice President, Prof Yemi Osinbajo, have received a boost with close to 147 groups now begging him to throw his hat in to the ring, it has been said.
Making this known Wednesday morning, is the National Secretary of the National Coalition Group for Osinbajo 2023, Dr Eli Eberechukwu Dibia, while speaking on Arise News TV Channel on the topic, "Osinbajo Purported Presidential Bid."
He said it was Vice President Osinbajo's antecedents and the impeccable leadership he displayed when he was Acting President the was their driving force in mounting pressure on him to yield to their call to be Nigeria's President in 2023.
Dr Dibia, who hinted that the not less than 147 support groups cutting across women, youths, students and labour bodies in the country have endorsed Osinbajo for 2023 Presidency, said, it would be in the great interest of the ruling All Progressives Congress (APC) and Nigeria to give the presidential ticket to Prof Osinbajo, who would do well to "sustain and consolidate on the achievements of President Muhammadu Buhari."
His words, "It is a very big advantage to the ruling party APC, the convention is coming up by 26th of February and we are looking forward that a chairman that will emerge will understand, be concerned with the prosperity and fundamental issues of this country and by so doing will have no other option than to reconsider and look at the position that Nigeria is as at today.
"The mood of this country today requires the will to sustain and consolidate on the achievements of President Muhammadu Buhari.
It was when specifically why is the Vice President being "dragged" to the race by these many groups when he has not shown interest to run? That Dr Dibia responded, saying Osinbajo's antecedents and the impeccable leadership he displayed when he was Acting President that was their driving force to now ask him to contest.
He also clarified that no group was forcing the Vice President to contest, adding that, Osinbajo has the right to listen to their calls or not.
"Let me differ a little from what you just said. No one is dragging Prof Yemi Osinbajo into the presidential race, looking at his antecedents, what he was able to do in 2018 when the President left for a treatment abroad.
He handed over to him as Acting President, and within that six months, Nigerians were proud to say they had someone as Acting President because there was this invasion at the National Assembly at that time and they insisted and he (Osinbajo) went ahead to sack the Director General (of DSS) who ordered that invasion, thereby exemplifying him as a man who respects the legislators, a man who has respect for the rule of law, a man who is willing to ensure that all tribes are carried along in the affairs of the country.
ALSO READ: Osinbajo has carved a niche for himself in nation-building — Ganduje
Speaking further, he said: "The Presidency of Nigeria is not just an ambition that should be left for Prof Yemi Osinbajo alone, it is something all of us must come together to look inwards and be able to get a president that could stand integrity test, and having looked round, and studied the array of people that are showing interest, the National Coalition Group decided to pitch their tent with Prof Yemi Osinbajo."
One of the interviewers during the programme session asked: "A lot of people say there's no smoke without fire. Osinbajo's spokesperson came out to say he has got nothing to do with an office opened recently in Abuja, as regards the Osinbajo movement and I put it to you, you know a lot of people have been saying that all these groups can't be doing it for free, so who puts oxygen in your lungs? What's the funding like?
In his reply, he said: "The funding is from a lot of beneficiaries who benefitted from the N-Power Programme, about 500,000 of them. A lot of small and medium scale businesses who benefitted from the CAC registration that was done for free, Over 200,000 of them.
ALSO READ: Osinbajo best for Nigeria, don't vote for moneybags, says Babangida Aliyu
We have about 21,000 members across the 774 Local Governments in Nigeria and the 36 states of the country plus the Federal Capital Territory (FCT), Abuja.
So, our funding is by our contributions. We are contributing money by ourselves. It is a task. We see Nigeria as a project.
"For crying out loud, is it bad for someone who is highly cerebral and highly educated that has the experience and is fundamentally rooted in the policies and programmes of this country to become the president?
"Is it not high time we stopped going back to Egypt? Aso Rock Villa is not a retirement house. It is a place for action. A place for policies. A place for us to project Nigeria within the foreign sphere and then stand out as number one in Africa.
"Everybody has the right to say he wants to become president, but we will first look at your credentials, your pedigree and your antecedent.
"Nigeria has grown to the level of producing a president that will stand within the committee of nations," he concluded.