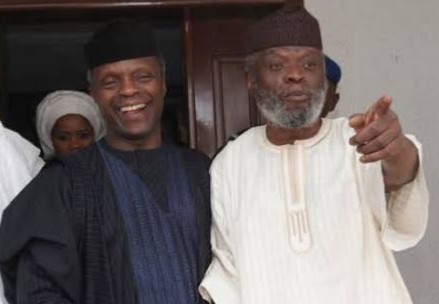 By Oluwafemi Popoola

Senator Olusola Adeyeye, a chieftain of the ruling All Progressives Congress (APC), has given reasons he chose the current Nigeria's Vice President, Prof Yemi Osinbajo, SAN for the country's top job in 2023 among the party's presidential hopefuls.
He maintained that other Nigerians have the right to aspire to that office but he would be supporting Osinbajo, though he is a close associate to other APC contenders that have publicly declared their interests.
Speaking during a Channels TV programme, "Sunday Politics" on Sunday, 6th March, 2022 with the topic, "APC Presidential Ticket And The Contentions," Senator Adeyeye, a Professor of Biological Sciences, who was the Senate Chief Whip in the 8th National Assembly, described Osinbajo as someone with intellect who has the gut, exposure and temperament, identifying as the best man for the most exalted office in the land.
According to him, "Obafemi Awolowo was the greatest President Nigeria never had. So Unfortunately, sometimes, the best person doesn't win."
"I happened to believe that a particular person is the best, I believe that for being the Vice President of the country, he has had the exposure, he has the intellect, he has the gut and I believe he has the mindset, the temperament to make a great President"
"However, look, it all depends on the party, for example, would there be zoning or would there not be zoning? I have told everybody who will listen to me in this country, if there will be zoning, my own preference to be President should be zoned to an Igbo, whether that Igbo is from the South-East or South-South because there are people in Rivers who are Igbos, there are people from Delta who are Igbos but if there will be no zoning, my own candidate is Yemi Osinbajo.
Speaking about the chances of other APC aspirants, Senator Adeyeye currently representing Osun Central constituency of Osun State, at the Senate, disclosed that though he is friends with Feyemi, Tinubu, Fashola and the rest, he would be supporting the candidacy of Osinbajo having assessed the qualities of them.
ALSO READ: 2023: Senator Adeyeye unveils Osinbajo's political movement, 'The New Tribe,' in Kano
He said the last time he spoke with Tinubu concerning the 2023 Presidency, the former Lagos State governor was not interested in vying for the post but he admitted that times might have warranted his change of plans, saying, "he has the right to change his mind and if he wants to be President he has the right to aspire to that office."
His words: "By the way, are we saying that only the Yorubas in APC are competent enough to be President. Oh ! I love Rotimi Ameachi. I have tried to get in touch with him for several weeks now without succeeding in getting in touch with him to know what his wishes are.
"I love Tunde Fashola, he will make a first class President. I don't think he is keen. So, I leave those who are not keen not been keen but the important thing is we have people who have put themselves forward at the right time. We should ask them what their plans are for this country and if we agree with them, we should elect them."
"I know Bola Tinubu very well. We were in the trenches. I believe there is no hard working political strategist in Nigeria than Bola Tinubu. I just so believe that when you weigh all the components together my own preference is for Yemi Osinbajo.
"That's my take on that. I just said in any democracy, party primary is nothing but a rivalry. Sometimes, a rivalry between siblings that sometimes can be fierce. It is not gonna be easy if Tinubu wants to be President. Last time I spoke with him, he actually told me that he was not keen on being president but he has the right to change his mind and if he wants to be President he has the right to aspire to that office,"
Adeyeye said.
Senator Adeyeye while commenting on the published reports indicating an alleged agreement in 2014 before the 2015 general elections between President Buhari and Asiwaju Tinubu concerning who becomes Nigeria's President in 2022, the Senator angrily questioned that arrangement, saying, the two of them had no right to take such decisions on behalf of the rest who are members of the party.
"I have read in the newspapers that there was an agreement between Bola Tinubu and Muhammudu Buhari on who will become President after they all die. Who gave the two of them the authority to take decision on behalf of the rest of us who are members of the party?
"I was a very effective member of the UPN (United Party of Nigeria). I wrote speeches for Bola Ige when he was the governor. So, I'm not a novice in politics.
"When Bola Ige announced here in Lagos that he wanted to be President, the speech he read, I wrote it. When he faced the Yoruba convention in Atlanta and announced his plans, the speech he read, I wrote it. Tinubu is a fantastically hardworking human being, he has the right to aspire to that office but the office will not be giving solely because of some private arrangements between two people. Where in the world do you do that.
Look, Osinbajo Is the Vice President to Buhari, I pray that he support Osinbajo," Adeyeye concluded.