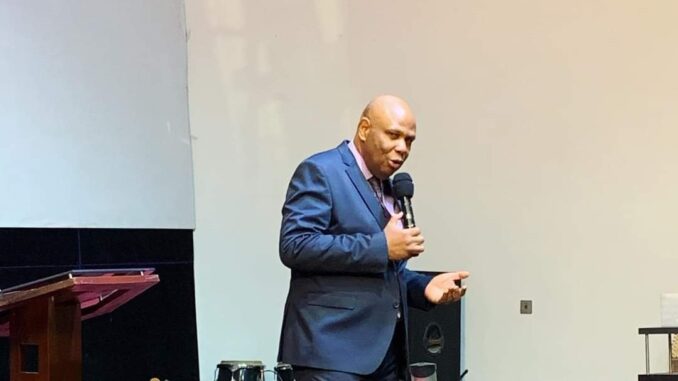 Irrespective of the challenges environmental, societal, national or global challenges, people who understand the times and seasons we are in now, can make it and manifest because this is the will of God for them, Pastor Tunde Jaiyebo has said.

The Senior Pastor of Charis Family International Church stated this on Thursday, January 5, while ministering to an audience, commencing the 2023 four-day conference of his church at its headquarters auditorium along Cultural Centre Road, Mokola, Ibadan, the Oyo State capital.
Ministering with the conference theme: "SPROUT… Manifesting Against All Odds," with the scriptural reference taken from Job 14:7-9, and specifically reflecting on Nigeria's situation, Pastor Jaiyebo said, "We live in a critical time, which the Bible calls the end time. It is a time characterised by difficulties, crimes and corruption."
Noting that the Bible has already warned in 2 Timothy 3:1 that "This know also, that in the last days perilous times shall come," yet, the minister affirmed that "We are in the last days now."
However, he noted that "because of the difficulty of times, people are likely to compromise their dreams and give excuses not to be able to fulfil their dreams. But you must understand that there is no excuse not to be able to fulfil your dreams.
"People are compromising because of the time we are living in. You need to understand the time we are living in because things won't get better, they will get worse."
Also referring to Hosea 6:4, stating, "My people are destroyed for lack of knowledge," he said the way out for everyone seeking to record breakthroughs as a new year has offered another opportunity is to seek knowledge and embrace it.
Pastor Jaiyebo admonished the audience, saying "We need to manifest despite all odds, that is the will of God. We need to sprout and grow quickly despite the odds against us.
ALSO READ: You're created to be great, says Pastor Jaiyebo
"As we enter into the new year, we must understand what we need to do. People will tell different stories about what they have to do. As long as you keep having excuses, it means you are not manifesting despite all odds."
He said Isaiah 63:1-5, has also given a leeway for all the children of God to "arise and shine," as he charged: "Arise from the depression and frustration which circumstances have kept you."
The cleric exhorted his audience that the circumstances around them may not be right, but the commandment and direction from the Bible are to arise from the prostration.
"We are exceptions to the circumstances of the society. We are to arise and shine amid societal challenges.
"No matter how things have been in 2022, you are to arise and shine. Manifestation, no matter what is happening is what God wants us to do.
Looking through the situation and circumstances in Job 14:7-8, at face value, the tree mentioned here had no hope because it was cut down, the roots had waxed old and the stumps were dead.
"Similarly, what did 2022 do to you? Some only managed to scale through. Some lost their jobs. When you look at your life, you ask what has happened to me?
But you equally need to know that regret may be positive or negative, it can either weigh you done or get you up. But according to Ecclesiastes 9:4, as long as you are alive, there is hope. Don't give up on your dream.
"You only need to make a small adjustment in your relationships. God in Isaiah 60:17 says, "For brass I will bring gold, and for iron I will bring silver, and for wood brass, and for stones iron: I will also make thy officers peace and thine exactors righteousness. This is what God says He will do. What is He saying? It is your year of upgrade.
"Gold and brass look the same, but they are different. What it means is that if you weren't promoted last year, you will be promoted this year," Pastor Jaiyebo said while assuring his audience that if they depend on God and follow His direction, they will make it in 2023 despite all odds.