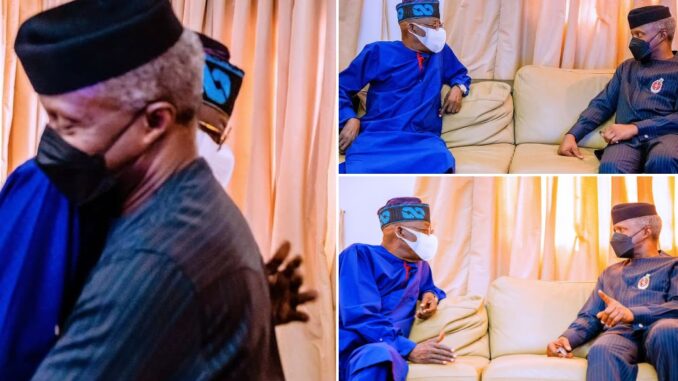 Vice President Yemi Osinbajo has met with national leader of the ruling All Progressives Congress (APC), Asiwaju Bola Tinubu.

The two leaders seen embracing each other in viral online photos, met at the private residence of Tinubu is Asokoro Abuja.
Political analysts have expressed mixed feelings on the perceived distance between the APC chieftains until both leaders were seem together for the first time on Tinubu's return after he had been away for three months in London, United Kingdom for medical reasons.
ALSO READ: Buhari launches CBN's e-Naira, says to grow Nigeria's GDP by $29bn in 10 years
Tinubu had confirmed undergoing a knee surgery while abroad, but Osinbajo's inability to visit him in London, and immediately on his return to Nigeria, had been controverted as some claimed both leaders were not in good terms, even after Osinbajo's aides had informed that they were in constant touch.
However, the Friday, October 29, 2021 public appearance of both leaders exchanging cordial greetings in warm embrace has doused water on the hot faces of critics, who had anticipated a pitched battle between Osinbajo, and Tinubu over their alleged interest in contesting the 2023 presidential election, though both have not declared an interest.