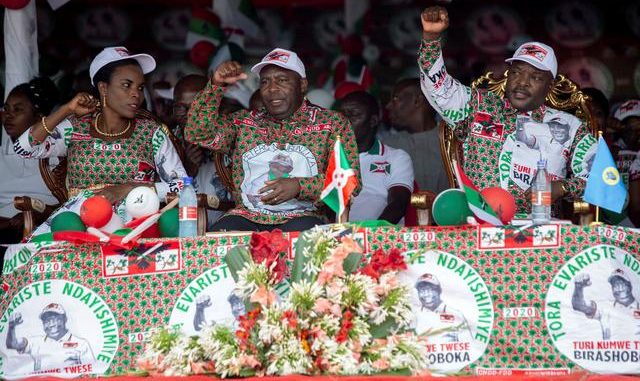 Burundi is brazing for its May general elections, as the race to become the next president of the central African nation is officially underway.

While the country is mindful of the challenges posed before it by the COVID-19 surge holding the world spell-bound, authorities proclaimed God will protect citizens from the novel coronavirus, which has already infected 15 people in the country and caused the death of one other.
ALSO READ: COVID-19: Buhari orders nationwide curfew in Nigeria, total lockdown in Kano, one week extension in Abuja, Lagos, Ogun
The campaign for the May 20 presidential, legislative and municipal elections in Burundi began on Monday, in what has been described to under a climate of mistrust towards the government for its management of the new coronavirus epidemic and repression of the opposition.
Candidates launched campaigns with large rallies that are off limits, against what is currently happening in other parts of Africa, where governments had mandated that people practice social distancing to curtail the spread of coronavirus.
The opposition groups who have registered their open disapproval for the holding  accused President Pierre Nkurunziza's administration of being irresponsible for not delaying the election.
Nkurunziza, who is stepping down from power and is apparently shunning measures to slow the spread of the virus, was quoted by VOA as telling supporters at a large rally Monday that he is backing General Evariste Ndayishimiye, the CNDD-FDD's presidential candidate.
Nkurunziza's 15-year tenure has been marred by controversy, including his  2015 decision to seek a third term, which resulted in a deadly civil uprising.