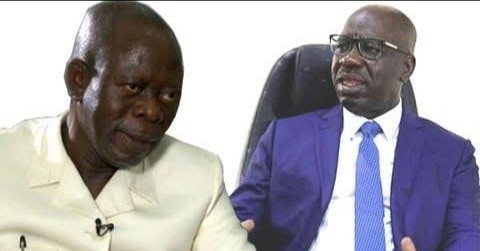 Edo State Governor Godwin Obaseki, has said that his estranged godfather, Comrade Adams Oshiomhole, is angry with him because he didn't allow him to fulfil his third term governorship agenda though him.

Oshiomhole, a former governor in Edo State, who handed over to Obaseki in 2016, after he completed his eight years of two-term governorship, later became the national chairman of Nigeria's ruling party, the All Progressives Congress (APC).
Obaseki, disclosing this in a statement through his Special Adviser on Media and Communications strategy, Crusoe Osagie, said, part of the reason was that he equally refused to be used in Oshiomhole's plan to become godfather in Edo State.
According to Obaseki, Oshiomhole supported him in 2016 because he had a hidden motive, saying, the plan of the former national president of Nigeria Labour Congress (NLC), was "to use him as a pawn to defraud the people of Edo State."
Failure to allow Oshiomhole achieve all his goals, especially to fulfil his third-term agenda to govern Edo State by using him as a proxy, as alleged by Obaseki, he said made the former APC national chairman to be angry with him.
"In 2016 when Oshiomhole nominated and supported Obaseki, his hidden motive was to use Governor Obaseki, who he thought would be a pawn in his game to defraud Edo people and enthrone himself as the ultimate godfather of Edo politics at the expense of the will and wishes of Edo people.
"However, Obaseki's refusal to mortgage the interest of the majority of Edo people for the satisfaction of Oshiomhole and his handful of greedy followers is the cause of Oshiomhole's bitterness which has led him to bury himself in pursuit of an innocent governor who is trying to do the right thing for his people," the statement read.
ALSO READ: I'm back home to reclaim APC for Edo, Oshiomhole says on arrival
However, Oshiomhole, who relocated from Abuja to his Iyamho hometown residence near Auchi in Etsako West Local Government Area of Edo State, told his teeming supporters who trooped out to welcome him that, he regretted handing over to Obaseki as his successor, back now back in the state to reclaim it from Onaseki for APC.
According to him, "if Edo residents say yes and God says yes, no man born of a woman could say no."
Oshiomhole, addressing his supporters, said: "I am back and ready for the job. The snake that entered our family home, God has driven the snake to where he belongs. I have come home to join you and start the process of reclaiming the house to the family of APC.
"I have only one mission and I know it is our common mission, which is to bring Edo back to the path of sustainable development.
"We shall bring back the era of red roof. We want to bring back roads with drainage. We want to bring back those lofty days when we engaged our youths and we mixed with the elders.
"We want to return to the government of the people, by the people and for the people."
Oshiomhole, said, it was a grave mistake he made in 2016, but to him, Obaseki's recent defection and that of his deputy to the PDP, signaled the removal of "the bad heads in our party."
Berating his successor, Oshiomhole said, Obaseki, used every obnoxious means, including the destruction of properties and unwarranted arrest of members, to destroy the party in the state.
"The governor was demolishing the houses of our members while some were being jailed for trump up charges; these are the people who fought for him to become governor.
"I begged those who were being persecuted to take it easy, that they shouldn't burn the house we all laboured to build because we want to smoke out the snake and now, the snake has been smoked out of the house.
"Few weeks earlier, the snake said APC was his house and that he was not leaving, but less than 72 hours after saying this, he left.
"If we had burnt the house because the snake was giving us problem, we will all have been homeless by now.
"I have come home for only one project, I am not going back to Abuja until the project is completed
"I came back home not to rest, but to work. We are political lions, we must commit ourselves to returning Pastor Osagie Ize-Iyamu to Osadebe Avenue."
Oshiomhole told the people of Edo State to judge the present government with what they see and not what they hear, as according to him, "there have been no tangible development since we left government, all they have to show for almost four years are MOUs and ear mark projects while we had eye marks projects.
"This was how they brought the respected Vice President to Benin to groundbreaking for an industrial park that we will never see. Same also goes to that of Gelegele Port."
However, Oshiomhole assured the people that: "We shall bring back the era of red roof. We want to bring back roads with drainage. We want to bring back those lovely days when we engage our youths and we mix-up with the elders."
The September 19 governorship election will see APC's Governorship Candidate, Pastor Osagie Ize-Iyamu and the incumbent Governor Godwin Obaseki of the Peoples Democratic Party (PDP) slugging it out as top contenders among other candidates in the race.
Oshiomhole, who was governor of Edo State for eight years from 2008 to 2016, handed over to his estranged godson, Governor Obaseki, as he worked against Ize-Iyamu in 2016, who is now his preferred choice in the September 19 election.