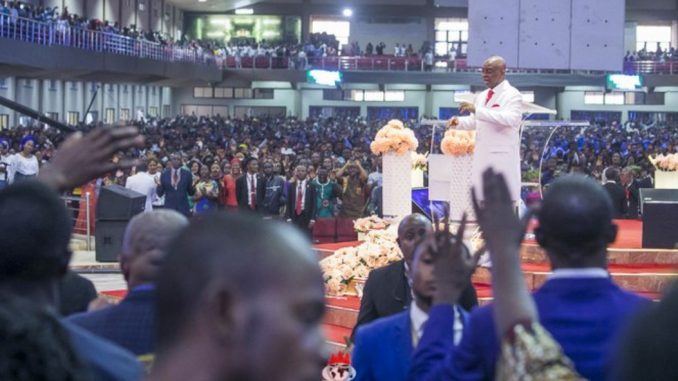 Popular Nigerian church founder and leader, Bishop David Oyedepo of the Living Faith Church, has moved against a bill seeking to make COVID-19 vaccines compulsory in Nigeria.

Bishop Oyedelo, whose church is also popularly known as the Winners Chapel, ministering at the Church Communion live broadcast, said it was the gang-up agents of the devil who were trying to bring a flood of evil upon humanity.
An end has come to all the forces of hell manipulating people and tying down nations in the name of Jesus!#Breakinglimits

— @davidoyedepomin (@DavidOyedepoMin) May 14, 2020
The controversial bill is sponsored by the trio of Nigeria's House Representatives Speaker, Femi Gbajabiamila, and two lawmakers, Pascal Obi and Tanko Sununu.
Oyedepo said: "If you must take a vaccine; why will you force me to take a vaccine? For what?
"You don't take vaccines, you don't go outside the country! How? Where is it coming from?
"Evil scheming of evil men, gang up of agents of the devil, trying to bring a flood of evil upon humanity. And now from the vaccine, autism; from the vaccine, higher mortality rate of deaths."
Coronavirus is becoming history!
Coronavirus is dead!
The spirit of fear is destroyed in the name of Jesus!#WeekendVibes #Breakinglimits pic.twitter.com/IuVdbZsPQ3

— @davidoyedepomin (@DavidOyedepoMin) May 15, 2020
He contended that something evil was being schemed by some individuals and that people perpetrating it "don't know why."
Oyedepo, who had earlier criticised the national lockdown affecting the closure of churches, said his outcry over over the restraint put on attendance in churches was for the kingdom of God.
ALSO READ: BREAKING: Coronavirus death toll in Africa could hit 150,000, WHO warns
He said anything that troubled God's agenda will be troubled.
"It's over! Whatever troubles God's agenda will be troubled. The most valuable asset to God is the human life.
"If you see me screaming and crying, it's for the Kingdom, absolutely so. You mean you keep God's people, block their access to spiritual food for four weeks, five weeks, six weeks, seven weeks and you are going to the market, buying and eating with 10 fingers. You kept students from school.
"This is an imported virus, how has it become our own? Why must we now have it?
"There is something going on here! Something evil is being schemed by some individuals and those who are perpetrating it don't even know," Oyedepo said.
ALSO/READ: I drowned my baby for not allowing me to study law, mother confesses
Meanwhile, according to its , sponsors, the Quarantine bill is: "A bill for an act to repeal the Quarantine Act (1926) and enact the Control of Infectious DiseaseAct, make provisions relating to quarantine and make regulations for preventing the introduction into and spread in Nigeria of dangerous infectious diseases, and for other related matters."
As gathered, if passed into law by both the House of Reps the Senate, and assented to by the President Muhammadu Buhari, the Health Minister would have been empowered by law to declare any premises to be an isolation centre for the purpose of preventing the spread or possible outbreak of infectious diseases.
Where the issues become more contentious is in the Section 79 (3) of the bill, where a fine of N500,000 was prescribed and a six-month jail term for violators of the quarantine restriction or refusal to take vaccinations in case of an outbreak or a suspected outbreak of an infectious disease in Nigeria such as the ravaging COVID-19.